Our hotel rooms
---
70 comfortable hotelrooms
Losby Gods offers 70  well-equipped rooms. Whether you choose a standard room, a deluxe room or one of our suites, we promise you a good night's sleep in a quiet environment. Do you want to make a little extra out of your stay? Book a night in the Haakon Suite, located in the historic part of the hotel.The rooms have a wonderful view, overlooking either the Losby forests
or the Losby Golf Course. Wireless internet connection, free of charge in all our rooms and common areas.
---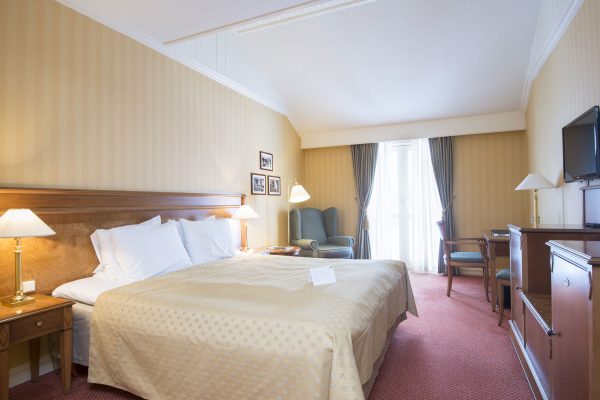 At Losby Gods we have 45  well-equipped standard rooms with great views. Our rooms are comfortable and equipped with everything you need for a relaxing stay.
30 of the standard rooms are furnished with a large and comfortable double bed and 15 with two single beds, desk with chair, armchair and closet space. The bathrooms with toilet and shower are spacious with bathroom products from Rituals. All our standard rooms can accommodate 1 extra bed on request. The standard rooms are decorated in light colors and have large windows with beautiful views of the forest or the golf course.
In-room amenities include a TV, ironing board and iron and hairdryer. All rooms and public areas of the hotel have free wireless internet access. Our tasty manor breakfast, served in the cozy restaurant on the ground floor, is of course also included in the price.
Spend the night in one of our modern hotel rooms, in inspiring and beautiful surroundings that provide peace and energy.
---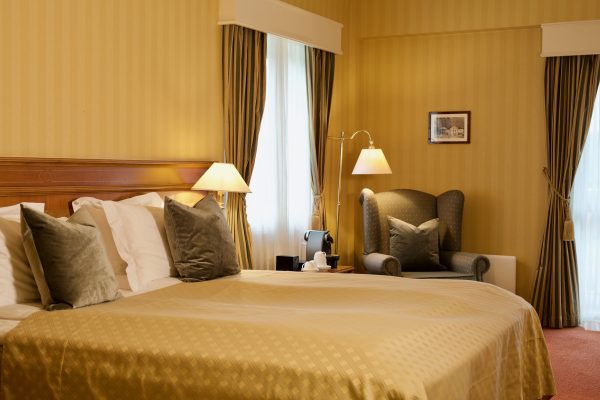 We have 20 pleasant deluxe rooms with a relaxing atmosphere and balcony. Here you will find everything you need for a comfortable stay.
The well-equipped deluxe rooms are furnished with large and comfortable Jensen Konsul Kingsize quality beds, which ensure that you get a good night's sleep. The rooms are equipped with a desk and chair, have plenty of closet space, and can accommodate up to 2 extra beds on request. The bathrooms are spacious and modern with toilet and shower. All deluxe rooms have a balcony with scenic views of the golf course or our park.
In the deluxe room you will find a TV, hairdryer and coffee machine so you can make your own coffee. All rooms have access to free wireless internet.
Start the day with a coffee from the Nespresso machine on the balcony, before going down to the set table in the breakfast buffet, which is of course included in the price. Here you can replenish your energy store with fresh bread and cold cuts, freshly baked eggs and bacon, fresh pastries and fresh fruit before embarking on your day's activities.
---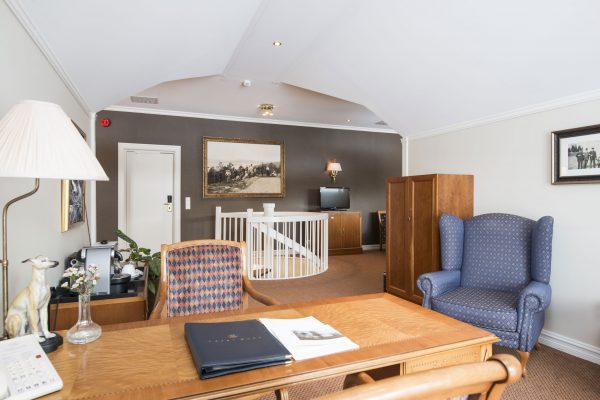 Our 4 suites are on two levels and have their own entrance on both floors. The Hästens Suite, Kathrine Suite, Lorentz Suite and Losby Suite all have bedrooms with an exclusive handmade Hästens bed and a bathroom with both a shower and a spa bath.
The Kathrine Suite, Lorentz Suite and Losby Suite all have Hästens Luxuria beds and in the Hästens Suite you can spend the night in a Hästens 2000T.
Upstairs, one floor above the bedroom and bathroom, there is a lounge, an area with conference tables with seating for six people as well as an office desk. Both floors have their own balcony and views either to the forest or to the golf course.
In the bedroom downstairs there is also space for a cot and on the 2nd floor we can add an extra bed on request.
---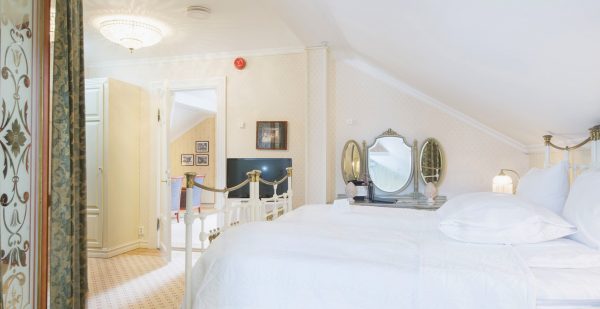 The Haakon Suite is the only hotel room in the old part of Losby Gods that dates from 1850. The room is tastefully decorated with soft colors, and has large windows that let in a lot of daylight. The suite has a separate dining room and lounge, and a large bathroom with shower, sauna and whirlpool with large mirrored windows facing the fountain at the main entrance. The balcony outside the lounge has fantastic views of the garden, the forest and the golf course.
In the bedroom you can find the pride of the manor. The old bed that was specially made for the late King Haakon VII of Norway. He was nearly 2 meters tall, and the manor's beds were to short. That is why this «King-bed» was made. The original bed is now for you to sleep in, if you choose to stay in this suite. A truly rare opportunity.
The Haakon Suite is equipped with a TV, Ironing and hairdryer, as well as a Nespresso machine. Free Wifi and manor breakfast in our nice restaurant are included.
The Haakon Suite is perfect for special occasions or when you want to treat yourself to some well-deserved, royal luxury.