Top 6 Bachelor- and Bachelorette Destinations
---
We have gathered our top 6 bachelor- and bachelorette destinations, from both The Bachelor and The Bachelorette so you can recreate the most unforgettable scenes – or make new memories – with your chosen one.
We have gathered our top 6 bachelor- and bachelorette destinations, from both The Bachelor and The Bachelorette so you can recreate the most unforgettable scenes – or make new memories – with your chosen one.
The US dating shows The Bachelor and The Bachelorette have captured audiences over the entire world. With devoted fans watching eagerly to see who will win over the heart of the eligible bachelor or bachelorette, they have traveled to exotic and breathtaking destinations and resorts. We have seen them enjoying white beaches and turquoise waters, visiting stunning shrines and temples, having intimate dinners among reflecting pools of crystal caves and relaxing at amaings spa hotels. These are our favorite bachelor- and bachelorette destinations:
1. Anantara Si Kao Resort – Krabi, Thailand
The dramatic finale of the 17th season of The Bachelor was filmed at two unique Anantara resorts in Thailand. Before we saw Sean Lowe gettin down on his knee to propose to Catherine Giudici, we had a glimpse of the magic at Anantara Si Kao Resort & Spa.
This beachfront retreat forms part of Hat Chao Mai National Park and provides a gateway to some of Thailand's best kept secrets. These are hidden secrets from fairytale islands and limestone cliffs, to mangrove reserves, virgin rainforests, hidden caves and stunning waterfalls.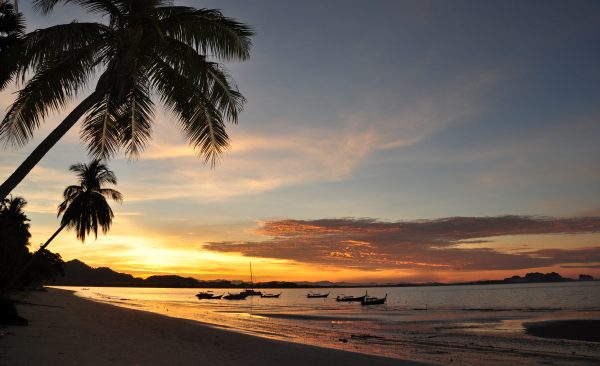 Photo: Koh Mook, Thailand by Eric Bauer, licensed under CC BY-SA 2.0
One of The Bachelor dates took place at the uninhabited island of Koh Mook. Here you can swim through a narrow cave tunnel, and explore the emerald lagoon with a secret beach that is enclosed by sheer rainforest covered limestone cliffs.
This beautiful bachelor destination and idyllic waterfront resort is perfect for weddings and honeymooners, but also families and leisure travellers. Take a speedboat to the powdery white sands of Koh Kradan, dive through reefs teeming with tropical fish, refresh in the infinity pool, laze in a hammock shaded by pine trees, or indulge in exotic treatments at Anantara Spa. After a fun packed day, one of the most sensational sunsets in the world is the perfect place to spoil someone special with a unique dining experience.
2. The Buccaneer – St. Croix, US Virgin Island
Founded in the 17th century and family-run for generations, St. Croix's The Buccaneer is the Caribbean's longest running resort and has a fascinating historical background. The first building on Estate Shoys where The Buccaneer is located, was constructed in 1653 by Charles Martel, a Knight of Malta. This French Greathouse was placed out of sight of the sea to protect from roving foes.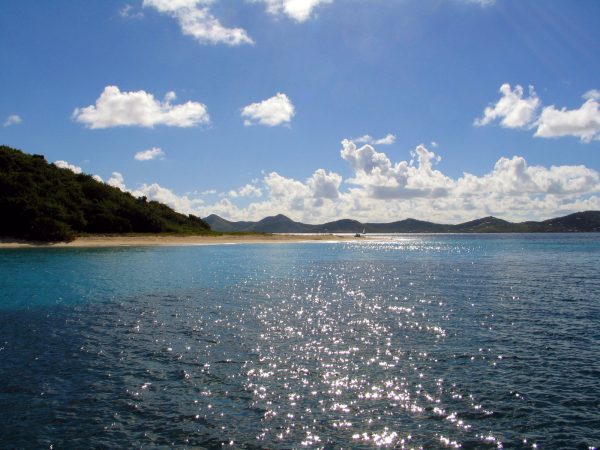 Photo: Sun on the Water in St. Croix by Ellen Sanpere, licensed under CC BY 2.0
Later, when the island was sold in 1733, Governor von Prock built his home on the estate, turning the French Greathouse into a sugar factory and erecting the sugar mill which is as it was in the days when sugar was king. Both cotton has been grown here, and cattle raised. But finally in 1947, the Armstrong family, who had owned and operated the estate since 1922, opened The Buccaneer for business with eleven guest rooms.
The Buccaneer, which was seen on the 17th season of ABC's The Bachelor, blends old world charm with warm hospitality and the amenities expected by today's traveler. The premier grounds feature an 18-hole golf course, eight tennis courts, three beaches, two pools, water sports center, an amazing spa with the best treatments for the body, fitness center, three restaurants and a shopping arcade with fine boutiques. The destination is perfect for weddings, honeymoons and family vacations, and you should definitely take a day-trip to the Buck Island reefs, and have a picnic on Whistle Beach.
3. CuisinArt Golf Resort & Spa– Anguilla
Brad Womack whisked his ladies to this celeb-favorite spot in season 15 of The Bachelor. CuisinArt Golf Resort & Spa is located on the tranquil island of Anguilla, the most northerly of the Eastern Caribbean's Leeward Islands. This intimate and casually sophisticated beachfront resort celebrates the ultimate Caribbean escape.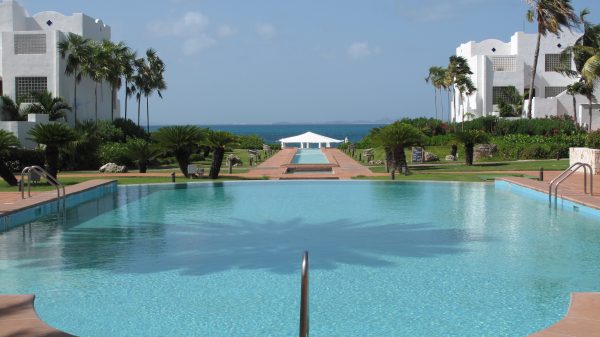 Photo: CuisinArt Golf Resort & Spa Pool by axalady, licensed under CC BY-ND 2.0
With a choice of 98 luxurious suites and villas, guests are enticed by the magnificent beach, fine dining at the Resort's acclaimed restaurants, and culinary activities including cooking classes and wine tastings. Amongst other things you can enjoy relaxation and rejuvenation at the award-winning Venus Spa featuring Aquatherapy – also a thrilling challenge awaits golfers at the Resort's stunning 18 Hole Greg Norman Signature Design Championship Course. This represents the ultimate bachelor destination.
The popular Seven-day Sea of Love package includes a chef's table, wine tasting, a private beach dinner for two, spa services, a one-day car rental and more. Anguilla has approximately 33 beaches and with the car rental you can enjoy a day at tranquil and picturesque beaches of the Caribbean.
4. Sonesta Kura Hulanda Hotel – Willemstad, Curacao
The Sonesta Kura Hulanda Hotel, an intimate 80-room property in the center of Willemstad, emulates a charming town center with cobblestone walkways and 18th and 19th century colonial style buildings in popsicle hues, and is the perfect spot for couples to celebrate each other. No wonder Emily Maynard chose this amazing bachelorette destination to give her final rose, in season 8.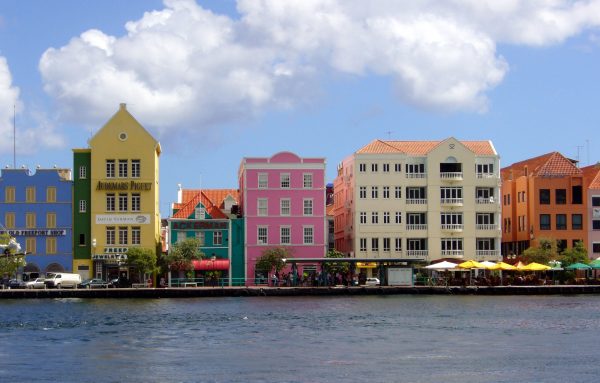 Photo: Willemstad Curacao Neth. Ant. by Jessica Bee, licensed under CC BY 2.0
This Dutch Colonial historic district is a UNESCO World Heritage site, and is an unforgettable place to have a wedding or honeymoon. The proposal package offers an island tour, dinner in the Sculpture Garden – which was the scene of the rose ceremony –  a visit to an herbalist for a «love potion,» and more. Sister property Kura Hulanda Lodge & Beach Club offers experiences such as private snorkel trips and beachfront dinners.
5. Radisson Blu Resort Sun Gardens – Dubrovnik, Croatia
Set on the Adriatic Sea, picturesque Dubrovnik has long attracted tourists – and has recently been the location for TV shows such as Game of Thrones and The Bachelorette. In season 8, Emily and six suitors strolled around the historic center, played medieval-style games and relaxed on scenic boat trips.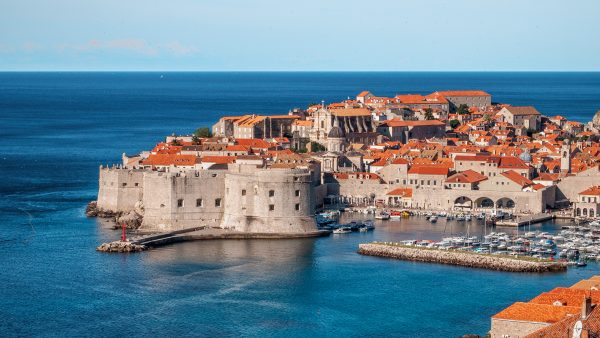 Photo: Dubrovnik, Croatia by Ivan Ivankovic, licensed under CC BY 2.
Featuring 201 rooms in the Radisson Blu Hotel, and 207 fully-appointed residences, the Sun Gardens Dubrovnik resort opened in July 2009, and is today recognized as one of the prime tourism sites on the Dubrovnik Riviera. No wonder!
Here you can relax, rejuvenate and indulge in the spa. It has been recognized with prestigious awards including winning Spa Traveller's best spa award as well as TripAdvisor's best spa award in 2010. It is also the perfect destination for sports and fitness enthusiasts. From 5-a-side football, tennis, squash, badminton, wall-climbing, sand volleyball and basketball to group fitness classes. Both a relaxing and adventurous bachelorette destination!
6. Losby Gods – Oslo, Norway
The luxurious Losby Gods was featured in an episode of the 13th season of The Bachelorette, in which Rachel Lindsay tried to find the man of her dreams. Losby Gods, with its 160 years of history, emerges from the middle of magnificent nature, and the mystery of the woods. At the manor you will be surrounded by a calm, and a harmony you have never experienced before.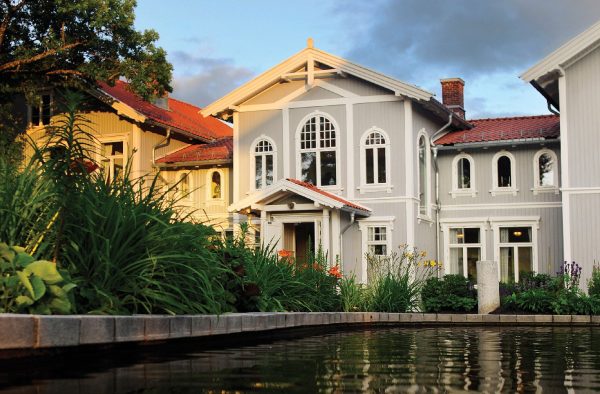 For the occasion of The Bachelorette, you can choose between two exclusive bachelorette-packages that allows couples to indulge in several of the activities seen in the series.
The Romantic Luxury Package include Losby Gods very best room – The Haakon Suite. It is located in the oldest part of the estate, built in 1850. If you were in love by the time of  your arrival, the love will not be less of a few nights in the room named after King Haakon VII, who ruled in Norway from 1905 to 1957. From the balcony you get a view over the beautiful garden, idyllic Norwegian nature and one of Norway's finest golf courses.
If you want to experience Norway and the things Oslo has to offer, you can stay at Losby Gods without booking one of the Bachelorette-packages. There are many other options for ordinary rooms that can be booked for as many nights as you wish.